The Ultimate Travel Guide on San Francisco
To travel is to live. To travel is to set yourself free and live the untold stories. There's something so magical about packing your bags and just exploring a new place. Today, we have picked one of the most thrilling cities in the United States. The hub of tech startups and multi-cuisine restaurant- San Francisco. 
The city has its own aura to allure you like no other. Today, in this ultimate travel guide we have jotted down some of the best recommendations to check out and explore. Without further ado, let us check out the blog.
Why Every Traveler Must Add San Francisco in Bucket list?
Apart from the land of sensational wine collection and costly apartments, there's something truly charming that makes one go back again and again. Whether it's the fog tumbling over the Golden Gate Bridge or having Gastronomic affairs, here are some of the reasons why every traveller must add San Francisco in their bucket list. When you are in San Francisco it is impossible to miss the sweet and savoury delicacies that will leave an impression forever in your heart and taste buds. 
There's too much hype going around the traffic in San Francisco. But that turns out to be a big assumption. Of course, the traffic at peak hours can be tad extra. Apart from that, there's not much traffic, unlike New York. This makes San Francisco a hassle-free and great place for the traveller. 
Location of San Francisco 
San Francisco is located in Northern California, US. It is the city, port and a collective county that is in the middle of the Pacific Ocean and Francisco Bay. Besides, it is also a cultural and financial centre of the States. San Francisco is also considered to be the country's cosmopolitan cities. At first, it might become a little confusing to travel in San Francisco as there are many one-way streets. But, the sooner it becomes efficient in navigating the locations. Besides, the hills around the city will become a landmark for your convenient travelling. 
Where to Stay in San Francisco?
With plenty of neighbourhoods, it becomes a daunting task in selecting the right place and Best hotels to stay in San Francisco. Besides, you also have to consider your budget and making the best of the city while staying in the hotel. Here are the best hotels to check out. If you are a luxurious traveller, blogger, or just someone who is looking out for a wonderful experience of staying in San Francisco, then here are our recommendations to check out. We have mentioned down the hotels as per the budget in sequence.
Hotels for the Luxurious Travelers
Here are the top three posh and elite hotels to stay for luxury travellers.
Four Seasons Hotel San Francisco 
Good 9 Reviews
9.5
757 Market Street
With delicious and aromatic cuisine at MKT restaurant, bar and housekeeping services, the Four Seasons Hotel San Francisco offers many perks. The guests have access to the entire sports club and many other amenities for the enjoyment time.
Restaurant

Pets allowed

Meeting/banquet facilities

Bar

Sauna

Fitness centre

Business centre

Babysitting/child services

Dry cleaning

Currency exchange

Spa and wellness centre

Massage

Heating

WiFi

Free WiFi

WiFi available in all areas
Taj Campton Place 
Good 35 Reviews
8.8
340 Stockton Street
Located in Union Square the Taj Campton Place is a Michelin-starred restaurant. Interestingly, it has also been upgraded to a luxurious hotel. The best part of staying in the hotel is the guests directly receive the room service from the Michelin restaurant. Therefore, one can enjoy several cuisines. The Taj Campton Place is located in Union Square, just a few steps away from the best shopping centres along with the food services.
Restaurant

Pets allowed

Meeting/banquet facilities

Bar

Fitness centre

Business centre

Dry cleaning

Family rooms

Massage

Tour desk

Heating

WiFi

Free WiFi

WiFi available in all areas
The Inn Above Tide 
If you are searching for a romantic and dreamy place to stay with your special one, then The Inn Above Tide is an impeccable option. It is located at the waterfront in Sausalito, California. The vintage feels win over the heart of anyone who just peeks into the hotel. The hotel provides you with the daily continental breakfast followed by a delicious lunch, evening wine, and cheese reception.
Hotels for Budget-Friendly Travelers
For someone who is looking out for a scenic view with the budget-friendly option of staying shall try the below-mentioned hotels.
The Golden Gate Hotel
The Golden Gate Hotel is full of exquisite charm and floral touch. It is towering the Edwardian building with an antique birdcage elevator. The hotel also gives you complimentary breakfast, afternoon tea and cookies, and other facilities. Union Square is situated nearby with the Theatre Districts to check by.
Hotel Emblem
Good 22 Reviews
9.1
562 Sutter Street
Hotel Emblem is located in the heart of Union Square. Surrounded by shopping centres and the best local food, one can roam around and never get tired. Inspired by the 20th-century interior, Hotel Emblem has public spaces, words written on floor and walls. The Hotel's bar and Lounge often hold slam poetry and live jazz music to end your day on a perfect notch.
Restaurant

Pets allowed

Meeting/banquet facilities

Bar

Fitness centre

Golf course (within 3 km)

Dry cleaning

Family rooms

WiFi

WiFi available in all areas

Paid WiFi
Hotel Zeppelin
Good 59 Reviews
8.2
545 POST STREET
Again, Hotel Zeppelin is situated in Union Square. It's a funky space with a cosy ambience that provides you with free WiFi and pet-friendly rooms. The hotel is also inspired by the late 1920s and 30's art and literature. One can notice it in the interior design and the historic building with plenty of antics.
Restaurant

Pets allowed

Meeting/banquet facilities

Bar

Fitness centre

Business centre

Dry cleaning

Family rooms

Cycling

Tour desk

Heating

WiFi

Free WiFi

WiFi available in all areas
Hotels for Low Budget Travelers
Lastly, if you are looking out for an affordable stay yet providing you with the basic necessities, here are some options.
Fisherman's Wharf
For someone who is travelling with the kids should definitely check out the Fisherman's Wharf. A great place to stay if you have a short time and want to strike off many things from the bucket list. Fisherman's Wharf offers you plenty of services. For instance, clam chowder, tickets to Alcatraz, Madame Tussaud's Wax Museum, and so much more. 
Downtown/Union Square
Of all the hotels mentioned, Downtown/Union Square is the heart of the city. If you are looking out for a central location with plenty of best restaurants, nightlife, and shopping destination then head over to Downtown/Union Square. One of the most convenient places to get around the city either walking or public transport.
The Adrian Hotel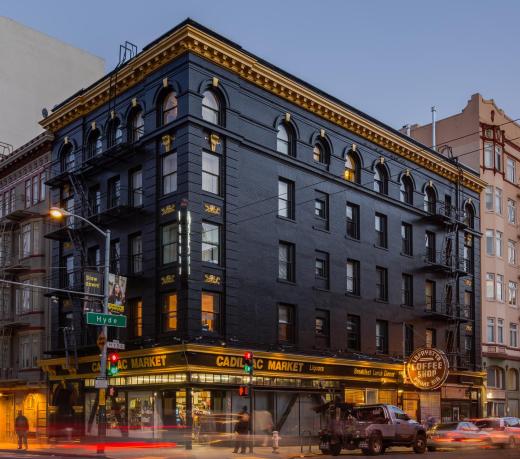 Good 6 Reviews
2.5
493 Eddy Street
The Adrian Hotel is located in the centre of Downtown San Francisco. It's a simple and elite hotel that gives you a fantastic view of the Tenderloin neighbourhood. For someone who is low on budget yet desires to view the architecture and touristy attractions must opt for The Adrian Hotel.
Airport shuttle

Heating

WiFi

Free WiFi

Airport shuttle (additional charge)
What to Eat in San Francisco? 
From burritos to the best seafood, in San Francisco, you will find the mouthwatering food that makes your stomach grumbling.
ProTip – Remember, all the places where you can savour the food have lines and sometimes it may require reservations. But in the end, it's worthy.
Tartine – if you aren't sure where, to begin with, then Tartine Bakery is the place to go every time. The freshly baked morning buns and croissants will make you drool. 
La Taqueria – Burritos are soul-satisfying. Hence, after a tiring day or just a boost in the morning, La Taqueria has unique and delicious burritos you'll ever have.
Zanze's Cheesecake – Cheesecakes are the purest form of joy. Right after eating the cheesecake at Zanze's you'll be thankful to us. Rich, creamy, and soft, eat the cheesecake slowly and savouring the flavours. 
Yank Sing – Yank Sing has the best Dim Sum to eat in San Francisco. With a huge menu on the table, it can be confusing to pick the best item on it. Thus, ask your surroundings for a sneak peek of favourite food at Yank Sing. 
Marufuku Ramen SF – If you are someone who loves to enjoy the Ramen after a lot of travelling and fulfilling the tummy, go to Marufuku Ramen SF. It has a limited option but considered to be the best in the city. 
Trout Tostada at Gala – A Mexican restaurant that has varied seafood. The farm-fresh tostadas to smoky chipotle and creamy avocado, it's a must to try.
Bi-Rite Creamery – there's hardly anyone who wouldn't indulge in the ice cream. The Bi-Rite Creamery is a place to die for. It has the best flavours with richness of ingredients which makes it select any flavour with eyes closed. 
How to Commute in San Francisco?
True, it can be overwhelming while travelling in San Francisco. But that's why our guide is here to help you out. Firstly, to visit San Francisco aka SF, you should book domestic or international flights at the airport. Both flights are based on Terminal 3. Once you have reached San Francisco, you can use the BART – Bay Area Rapid Transit. It's the regional transit with the public visitors commuting every day. With electric trains and inexpensive service, BART is the ideal way of commuting.
The trains operate up to 5:00 am midnight on weekdays, 6:00 am midnight on Saturday, and 8:00 am midnight on Sundays. Apart from BART, there are ride-sharing apps like Lyft and Uber. You can book your ride with one click on your phone and the personal devices are at your destination. There are also taxis and limousines whose fare rate ranges as per the traffic as well. Lastly, there are SamTrans Buses that run the public buses between SFO and downtown San Francisco Transbay Center. 
Things to Do in San Francisco 
Walk across the Golden Gate Bridge – When you are in San Francisco, you simply CANNOT miss out walking across the Golden Gate Bridge. You can even bicycle around on rent for a marvellous view. 
Take a ride on the cable cars – One of the tourist attractions in SF is the cable car that is quick and easy transportation for many famous locations.
Check out the Sea Lions at Pier 39 – For a fun time with the family and kids, head over to the Sea Lions at Pier 39. If you are lucky enough, then the Sea Lions tend to appear at the Pier.
Hiking to Coit Tower – Right after the Pier 39, you can hike to the Coit Tower. It provides you a brilliant view of Fisherman's Wharf, Golden Gate Bridge, and Downtown.
Explore Ferry Building – If you are a meat lover, then you should certainly go and explore the Ferry Building Market.
Explore Chinatown – it goes without saying that to try authentic Chinese food, you MUST go to ChinaTown. There's also the Fortune Cookie Factory, Old St. Mary Cathedral to check. 
Visit the Japanese Tea Garden – Considering it as the oldest Japanese Tea Garden, there are plenty of beautiful plants and trees. Free entry on Monday, Wednesday, and Friday if you enter before 10:00 AM.
Watch the Bay lights of Golden Bridge at Night – The Golden Gate Bridge shines in the afternoon, but at night, the bay lights illuminate creating a surreal experience.
Roam around the Mural Filled Alleys of Mission – Mission District in SF is splurging art and décor. There are multiple murals painted on the walls. Take a tour around revel all the art.
Shop at Union Square – One place that renders you amazing services. From hogging on decadent food to shop your heart out, Union Square is a favourite place to visit. 
Visit the San Francisco Museum of Modern Art – if you are an art lover or hoarder, then go to the SF Museum of Modern Art located at Downtown. Many famous artists' paintings and exhibitions take place.
Go to Fortune Cookie Factory with Kids – the first-ever Fortune Cookie Factory was found in San Francisco. It offers you a free tour. Tag along kids to watch the process from start to end and receive a sample of Fortune Cookies.
Check out the Aquarium of the Bay – Aquarium Bay is located at Pier 39. There are many interesting aqua animals that you'll surely enjoy spending time with.
Climb 16th Avenue Tiled Steps – It features artistic and creative mosaic tiled steps with a set of 163 steps. There are waves of turquoise, sea animals, and birds depicting art.
Hike at Sutro Baths – the Sutro Baths are famous for the saltwater pools. There are many trails to hike on Sutro Baths and view the iconic Pacific Coast.
Interesting Facts about San Francisco
Every city has its own set of facts that are sometimes fascinating for travellers. It arouses curiosity in understanding the city. Here are some of the facts regarding San Francisco. It's the top 50 most visited cities in the whole world 
The invention of Fortune Cookies – In 1848, the Chinese immigrants came to San Francisco for the first time. Ironically, it's the Japanese family who invented the "Chinese" fortune cookies at the Tea Garden. 
Denim Jeans – The denim jeans were invented by Levi Strauss for the Goldrush miners to give warmth and comfort.
Damaged Quarters – In 1906 due to earthquake three quarters were destroyed and burnt to ashes. It was the first-ever natural disaster to photographed. The damage was around $8 billion dollars. 
Invention of Cable Cars – The cable cars at SF are the only National Historical Monument that moves. The cables that helps in pulling the car run at the speed of 9.5 MPH.
Last Concert of Beatles – Did you know that San Francisco hosted the last BEATLES concert in 1966? Sigh! 25000 tickets were sold and the band played 11 songs.
The Golden Gate Bridge – The Golden Gate is the symbol of San Francisco. Originally the US navy wanted to paint the Golden Gate Bridge with Yellow stripes. 
The symbol on the Flag – There's a bear on California's state flag which is after the monarch who was found at the Golden Gate Bridge. 
UN Charter – In 1945 the UN Charter was drafted and ratified in San Francisco.
Best Time to Explore
So far, the best time to explore and visit San Francisco is from September to November. Again, it also depends on what you want to do and what you hope to see. San Francisco has a mild climate throughout the year. However, between November to March, you'll usually find rain. But, even on sunny days, we highly recommend you to carry a jacket with you for safer side.
During springtime, it's the warmest and clear blue skies to make you feel giddy. Though, it's also the time where crowds are at peak. Find best Best Places, Areas & Hotels To Stay In San Francisco.
Next Destination?
Right after San Francisco, we would highly recommend to check out the Santorini. It's an exquisite and endless blue sky that is invigorated with the fragrance. It's a destination to check out at least once in your life. Trust us, you won't regret it.
Travelling adds meaning to our life. It also helps us in becoming better people. For someone who has the desire to travel the world should not miss out on the heart of the United States, San Francisco. In the above-mentioned blog, we have written down a detailed travel guide on SF. If you are planning to travel in some time, then this blog is your going to be the best friend.
January 9, 2020

Comments Off

on The Ultimate Travel Guide on San Francisco